<transcy>Essentials Collection</transcy>
Elegance and comfort for your day to day is the soul of our Essentials Collection .
Created for you a brave, real, positive, intelligent, hardworking, human, dreamy, creative, successful, confident, grateful, wonderful, independent, friendly woman….
"Love yourself, pamper yourself and take care of yourself" because only then will you find your happiness.
The pieces in this collection are inspired by a minimalist movement, from which the simplicity of the most beautiful is born and gives prominence to how important you are.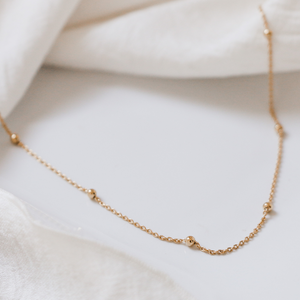 <transcy>Sphere Gold Necklace</transcy>
Sphere It is an essential jewel that cannot be missing from your jewelry box. It combines elegance and comfort.
If you've never liked wearing jewelry, start with the necklace Sphere And you won't even know you're wearing it
<transcy>Halo Gold Earrings</transcy>
Halo It is the luminous circle that symbolizes the aura of the people. This earring will be an essential in your jewelry box.