<transcy>Ananké Collection</transcy>
Ananké arises from a desire: Strength, need and protection.
Inspired by the supernatural powers of the Greek Goddesses creating exclusive pieces to feel extraordinarily alive.
Choose which goddess you want to be and dare to feel the magic that is within you.
The pieces in this collection were designed combining the beauty of geometric shapes with hidden symbols, to convey the purest feelings that will make you shine with your own light.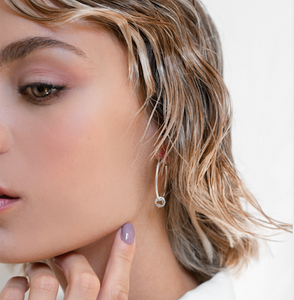 <transcy>Circle Silver Earrings</transcy>
Circle are large hoop earrings, which are differentiated by the handmade motifs they have inside.
They are a single jewel with more than four combinations.
Circe is pure magic, a versatile, elegant and daring jewel that you will undoubtedly want to have as a jeweler's background.
<transcy>Aurora Mini Silver Earring</transcy>
The design of the earring dawn it is elegant, sophisticated with a minimal style but with character.
In addition, it is versatile and has several positions, to choose the perfect combination.